Basal application

(BBCH-00)

(BBCH-19-20)

(BBCH-25-30)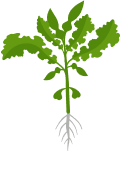 (BBCH-35-39)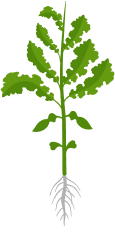 (BBCH-50-59)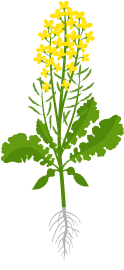 (BBCH-71-79)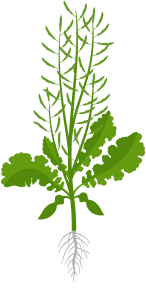 (BBCH-89-92)

Fertilizers are indicated by color:
nitrogen
phosphoric
potash
complex
specialties
Winter rapeseed
Principles of application
Winter rapeseed refers to highly technical and profitable crops.At the same time to get a high yield it requires high nutrient background. To get 1 t of grainwith the corresponding amount of byproducts, rapeseed consumes 50-60kg of N, 20-30 kg of P2O5, 40-80 kg of K2O. Only 33 kg of N, 11 kg of P2O5 and 7 kg of K2O are to be applied directly with the seeds. The rest of the used nutrients along with byproducts which exceedthe main product in 2,0-3,5 times return to the soil. The rate of fertilizer application is calculated in accordance withthe agrochemical characteristic of field,fertilizer and soil utilization rates.In case of average soil nutrient supply and neutral soil solution reaction, fertilizers application rate under high-yielding varieties and hybrids is N120−160P60−90K150−200. With increasing soil acidity, fertilizers application rate should beraised because ofdecrease in nutrient uptake by plant especially phosphorous.
Phosphorous-potassium fertilizers are better to apply to basal fertilization. At the beginning of vegetation, sufficient phosphorous supplystimulates rapid development of root system and further increases seeds productivity and accelerates ripening. The highest intensity of phosphorous adsorption is observed in the period between leaves development and flowering. Potassium enhances resistance toadverse growing conditions, pests and diseases, facilitates accumulation of sugarsthat weaken the negativefactors on overwintering. Throughout autumn vegetation winter rapeseed can consume up to 70 kg/ha of potassium so that proving potassium importance in the period of autumn vegetation. Sufficient potassium supply increases yieldand more importantly oil content in seeds by 5-8%.
Nitrogen fertilizers are to be applied during different periods of the growing season. It depends on crop predecessor, nitrogen soil supply and crop development. Nitrogen influences vegetative growth, seeds productivity and quality of grown products.
Up to 30-40 kg/ha of nitrogen better in ammonia or amid form is to be used for basal application. It provides formation of well-developed rosette, number of leaves not least than 8, theheight of stem up to 2-3cm and diameter root neck is about 10 mm. Nitrate form leads to quick stem mass growth, but causesunderdevelopment of root neck and root systemin general. With a large amount of organic matter of crop predecessor and in case of crop weak development it is better to apply feeding with nitrogen at a dose of 20-30 kg/haor foliar fertilization at a dose of 5-10kg/ha of carbamide or Sunfert Intense not later thanfirst 10 days of October.
Spring feeding with nitrogen is to be applied 1-2 times including compulsory ammonium sulphate, which contains simultaneously 2 main nutrients for rapeseed - nitrogen and Sulphur. Doses and time of applicationare set according to weather conditions, humidity and crop development stage, it is inappropriate to prefer early stages.Single dose of application is 30-60 kg/ha ofactive ingredient.Feeding effectiveness later than the beginning of flowering decreases rapidly.
Rapeseed is demanding on Sulphur supply and its uptake is curried out simultaneously with nitrogen, which contributes to the intensification of plant growth, protein formation and improving oil quality.Sulphur is applied up to 80 kg/ha of active ingredient. Foliar application with Sulphur in dose of 5-8 kg/ha of nitrogen with ammonium sulphate is better to apply before the beginning of flowering. The highest rapeseed demand in Sulphuris from the beginning of stem elongation to the beginning of pod development.
Rapeseed is also demanding in terms of magnesium supply, rapeseed consumes at about 30-50 kg/ha of magnesium. In preparation for overwintering, magnesiumstimulatessugar outflow from the leavesto the growth cone and root system, enhancing its growth andthickening of root neck.